Inspiration
On July 2, 1998 a group of teenage girls, churning with nervous energy, placed the first footprints on the trail toward a new era of wilderness experiences for girls and women. They realized the vision of three women who had seen a need for outdoor adventures specifically designed for women and girls, celebrating their unique learning styles. Laura Tyson and two colleagues, fueled by a combined 34 years of experience with wilderness programming, created The Women's Wilderness Institute (TWWI), a nonprofit with the mission of strengthening the courage, confidence, and leadership qualities of girls and women, through the challenge and support of group wilderness- and community-based experiences.
The Women's Wilderness Institute brings the vision to fruition through innovative personal development and leadership programs for girls age 8-18 and a continually expanding variety of skill-building, contemplative and rejuvenating adventures for adult women. We serve the full diversity of girls in our community, making special efforts to reach out to young women from low-income families and from socially and ethnically diverse backgrounds. Annually, more than 50% of girls' program participants receive need-based financial assistance and more than 35% are Latina, African-American or Asian-American.
Since 1998, thousands of girls and women learned new skills in a comfortable environment, with the support of talented female staff and co-participants, and enjoyed using their voices, feeling the strength of their bodies and laughing with new friends. The founders' vision to help build a better world by creating strong girls and women with the confidence to lead a generation of women and girls claiming leadership at all levels of our society lives strong in every aspect of the Institute and our community.
About Laura Tyson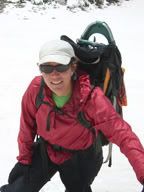 Laura Tyson, Founder, transformed the paradigm of outdoor and experiential education by creating a 'girl-positive' and 'women-centered' program model that celebrates and effectively motivates change in the girls and women who participate. Women's Wilderness programs are successful in helping girls and women use their voices, feel powerful about their ability to effect positive change and build critical feelings of confidence, self-worth and self-sufficiency. Through her vision and dedication, Laura effectively broke new ground in the field of outdoor education-a model which, until her innovation, was traditionally patterned on emotional and educational learning styles of men and boys. Laura holds a Bachelor's Degree in Biology and Environmental Studies from the University of California at Santa Cruz and a Masters Degree in Contemplative Psychotherapy from Boulder's Naropa University.