This Memorial Day Weekend, Women's Wilderness Outreach Director, Kelly McClelland caught up with Becky Marcelliano, Marketing Manager for Deuter USA. In her interview, Becky shares her thoughts on the growing presence of women in the outdoor industry and divulges some trade secrets on how to have the best backpacking trip ever. Read on!
WW: What inspires you to get out of bed for work every morning?
Becky: First of all: is my inbox faster than me, or am I faster than my inbox?! It's always an email game and I don't like losing!
But more importantly, I love connecting with people and inspiring others to get outside more. Of course, Deuter's overarching goal is to sell more backpacks, right? But with that, indirectly comes more experiences, adventures, travel, and exploration.
I believe these are the things that help shape people into more well-rounded humans: more well-educated, more aware and giving, more confident, and more likely to become stewards of our Earth. So, cheers to more backpacks and empowering others to grow through adventure.
How does Deuter approach the gender gap of women participation and representation in the outdoor industry?
Deuter has been making women's specific packs since the '50s, but it was during the early 2000s that the Deuter Women's SL line really came to be.
At that time, a team of designers and athletes was formed with the mission of making the best women's-fit packs in the world. They tested, studied and researched and finally got the designs down.
Along with the SL product launch, they began adding the yellow mountain lily to every SL pack to symbolize the positive differentiation of women's gear.
"It's not about being girly. It's about recognizing that our needs are different and delivering a product that works."
…And in true Deuter fashion, where function comes first, the flowers also can serve as a hair tie!
Beyond product, Deuter supports many groups — like Women's Wilderness — who are breaking down barriers and getting more women into the wilderness. Collaborations like these are one of the best parts of my job.
How does being a woman in the outdoor industry impact your work professionally and personally?
There is good and bad to everything. Especially on the hardgoods side of the outdoor industry, women in higher positions of management are not all that common. There are certainly times where I've felt I had to work harder than the boys to prove myself.
I've given presentations to rooms full of men and been the only girl on many work trips and adventures. But, I try to lead by example and see my position as an opportunity to help pave the path for other women.
There are some incredible shifts happening in our industry right now and I'm thrilled to be a part of that story.
Who is one of your most favorite women role models and why?
A few years back, I had a meeting at Outdoor Retailer with Teresa Martinez of the Continental Divide Trail Coalition. She was new in her executive director role at the CDTC, and in fact she may have been a one-woman team at that point.
The CDTC is seeking to create support for the thru-hikers on the Continental Divide Trail, build more trail to bridge the gaps, and raise awareness for the folks and gateway towns all along the trail from Mexico to Canada.
It's a tall order, but what I love is that it's expanding opportunities for economic prosperity and stronger community while celebrating trail life and our public lands.
During that first meeting with Teresa at OR, I honestly had to hold back tears. Teresa is so passionate, so powerful, so kind and humble. She's so real and needless to say, Deuter has been working with the CDTC ever since.
How can women start to combat stereotypes and sexism in the outdoor world?
It is there, no doubt, but we're seeing increased awareness around this subject and the number of organizations today to help empower women is growing quickly.
Find your community, join a group, go on a women's retreat, inspire others around you. I'm a big fan of being the good and bringing others upwards with me.
"If you're working in an environment where gender inequality may exist, be prepared to work your butt off. Find opportunity in this. Find your voice. Be a leader."
And just keep fighting… confidently, honestly, and with all the womanly grace you can muster.
What is one of your most favorite outdoor memories?
There are so many!
One of my most memorable days outside was about halfway through a cross-country bike ride. We were somewhere in Kansas, the temps rose to 112 degrees, and the roads were unbearably flat. We had a before-dawn start to attempt to beat the heat and were going for our longest day yet: 104 miles.
"We were about 70 miles in when it all fell apart."
The winds were gale-force sideways and I suddenly had a bulging red eye from airborne manure particles carried by the winds. I was beyond dehydrated. I snapped at my best friend, Carlie, who was just trying to help. I got off my bike and started dry heaving.
"I was done. But, I was in the middle of nowhere, so I couldn't be done."
I hurled out my pride and somehow got back on my bike and kept pedaling. We thankfully came to a farm with a spigot on the side of the house. We doused ourselves until our shoes were soggy and our body temps cooled down a bit.
"We pedaled our bikes into the next town, hurting, but smiling."
It was one of my more epic adventure days, but with that comes sweet victory and so much joy. We then ate the most gigantic ice cream sundaes you've ever seen.
What is your most coveted Colorado camping spot?
The secrets cannot be spoiled!
Just kidding; there are so many beautiful places in our state, there're really only good spots and great spots. You can't beat the Indian Peaks for its close-to-Boulder proximity and incredible vistas.
If you're looking for something a bit more off the beaten path, the San Juans are big and majestic and stunning.
Check out the Opus Hut for a good glamping weekend!
What is one thing that you wish you could have told your 13-year-old self?
I grew up in a family of 7 in the affluent "Suburbia" of New Jersey. We were the family on the block that subscribed to the "Tightwad Gazette." No joke; it was a thing.
Thankfully, outdoor play-time was very much a daily part of my childhood, but I was surrounded by a community of fancy cars and bloated bank accounts.
"In my teen years, I wish I had known that experiences were more important than things."
I've since figured out a nice balance of that I think, but my teen years were a bit confused in that regard!
What is your favorite backcountry meal?
Food in the backcountry is fuel for both the body and the soul. My favorite backcountry meal is rice noodles and veggies with a thai peanut sauce… peanut butter, ginger, garlic, tamari, coconut milk.
I love cooking gourmet style in the backcountry, but you can also go the easier (and way lighter way, but still delicious) route and buy it dehydrated from a company like Backpacker's Pantry.
I also love fancy s'mores! Gluten Free grahams, 'mallows, and either dark chocolate or peanut butter cups.
Any tricks of the trade for people wanting to get into backpacking for the first time?
For newbies, remember three things. You need gear, knowledge, and someone to go with.
Find a packing list online and get the essentials. Ask questions, do your research, visit gear shops. Start building your backpacking quiver.
"Don't skimp on your pack… you must find one that fits and is comfortable. Same with your shoes."
Buy a map of the area and study it. Make sure you have a way to treat your water. Think about food planning and any possible wildlife precautions. Bring layers and a proper shelter. Follow Leave No Trace ethics.
Once you're out there, trust yourself. Embrace the scary bits and learn to appreciate the fundamental wildness of it all.
Oh, and try not to pee on your feet.
How about hidden secrets for seasoned veterans?
Carry duct tape on your water bottles or trekking poles… you never know.
Wear wool.
Bring an extra stuff sack to pack out trash you find on the trail.
Bring jellybeans.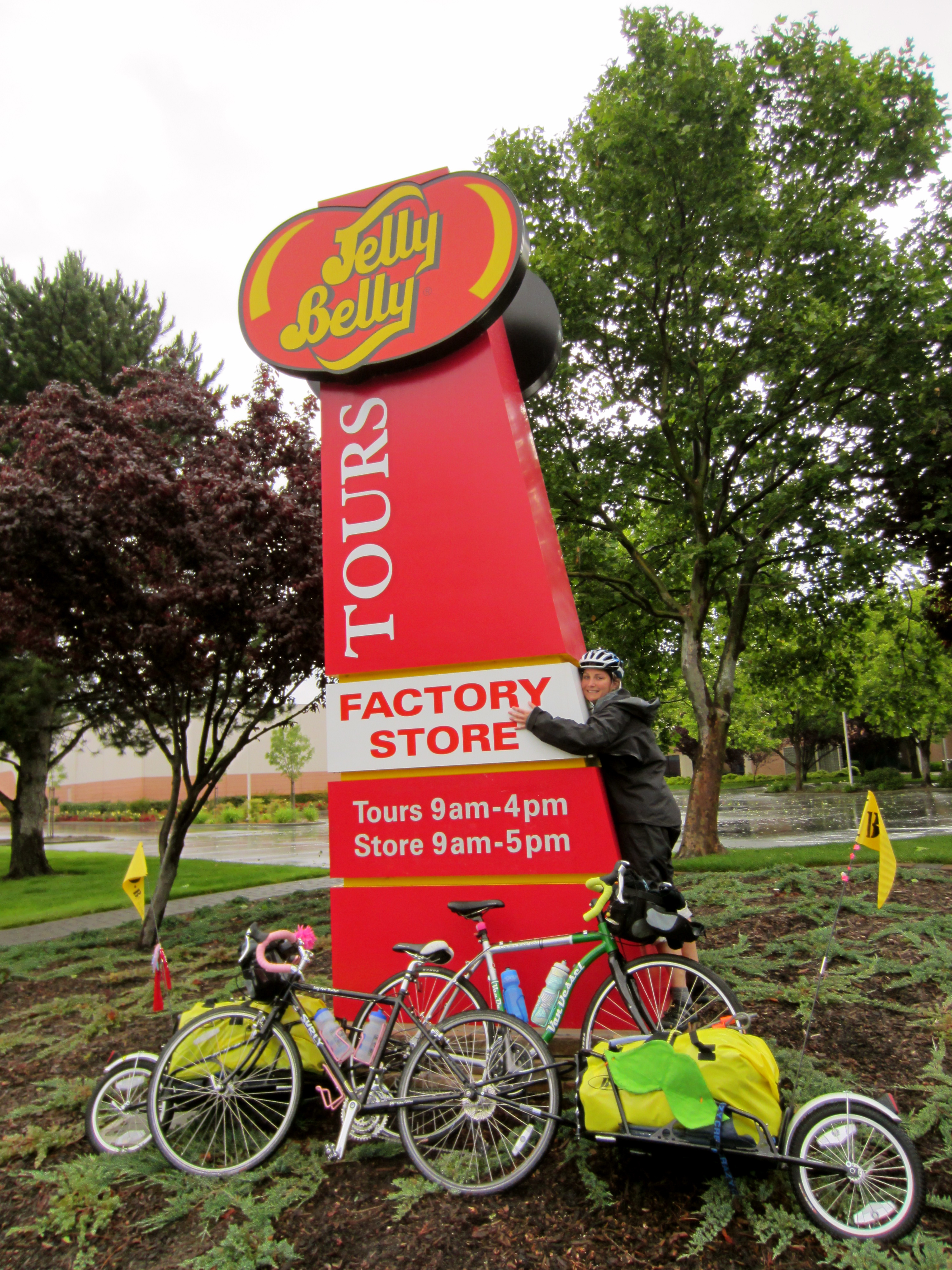 Use duct tape on your heals to prevent hot spots from even starting.
Snack on dried pineapple with peanut butter.
Go swimming as much as possible.
Consider a tarp instead of a tent.
Download a stargazing ap.
Create your own hacks!
Thanks so much to Becky for answering all of our many questions and for being an amazing role model for women in the outdoors! You rock!