History
Inspiration
First 10 Years at a Glance
About Founder Laura Tyson

InspirationOn July 2, 1998 a group of teenage girls, churning with nervous energy, placed the first footprints on the trail toward a new era of wilderness experiences for girls and women. They realized the vision of three women who had seen a need for outdoor adventures specifically designed for women and girls, celebrating their unique learning styles. Laura Tyson and two colleagues, fueled by a combined 34 years of experience with wilderness programming, created The Women's Wilderness Institute (TWWI), a nonprofit with the mission of strengthening the courage, confidence, and leadership qualities of girls and women, through the challenge and support of group wilderness- and community-based experiences.

The Women's Wilderness Institute has brought the vision to fruition through innovative personal development and leadership programs for girls age 8-18 and a continually expanding variety of skill-building, contemplative and rejuvenating adventures for adult women. We serve the full diversity of girls in our community, making special efforts to reach out to young women from low-income families and from socially and ethnically diverse backgrounds. Annually, more than 50% of girls' program participants receive need-based financial assistance and more than 35% are Latina, African-American or Asian-American.

Since 1998, thousands of girls and women have learned new skills in a comfortable environment, with the support of talented female staff and co-participants, and enjoyed using their voices, feeling the strength of their bodies and laughing with new friends. The founders' vision to help build a better world by creating strong girls and women with the confidence to lead a generation of women and girls claiming leadership at all levels of our society lives strong in every aspect of the Institute and our community.


First 10 Years at a Glance
1997
July : The Women's Wilderness Institute is founded as a 501(c)(3) nonprofit organization by Laura Tyson, Judith Vanderryn and Jan Lemmon. At this time, there are no established nonprofit organizations in the Rocky Mountain Region dedicated to providing quality wilderness programming specifically for women and girls.
October : First board of directors meeting.

1998
February : Laura Tyson hired as Executive Director. Over 1000 hours of volunteer time and in-kind support have been logged to get TWWI on its way.
April : First grants awarded from The Women's Foundation of Colorado and the Berger Foundation.
July : TWWI's first course, "Girlz in the Wood," hits the trail. We served 17 girls that summer; 88% received financial aid.

1999
May : First fundraising luncheon.
August : First True Nature course for women (True Nature is now called Wilderness Recovery Retreat for Survivors of Trauma).
April: First "real" office, complete with south facing windows that kept indoor temperatures hot in the summer and frigid in the winter.

2000
February : First printed TWWI catalog, offering 5 Girlz in the Wood courses, 3 sessions of Girlz on the Rock, 2 True Nature retreats and 2 WomanVentures expeditions.
August : WomanVentures launches (now called Women's Courses) with backpacking and rock climbing courses.

2001
February : Girlz on the Rock, a weekly indoor climbing course for girls begins at the Boulder Rock Club.
May : First full time program director, Tory Capron, hired
Summer: new courses include Adventure Camp for 12-13 year old girls, 12-day Girlz Leadership Course, Latina Course, Women's Backcountry Ski and Mother/Daughter Snowshoe.

2002
Girlz in the Wood now offers 9 different summer courses and 3 sessions of Girlz on the Rock during the school year.
Women's Program triples in size, with 23 courses including the debut of Rock Climbing, one-day skills clinics and Grace & Grit for women over 45.

2003
Girlz in the Wood renamed "Girls' Wilderness Program."
Catalog expands to merit a table of contents.
First annual Gear & Cheer fundraiser.
Women's program doubles again, with the introduction of Ice Climbing, Telemark Skiing, Fly Fishing, Canoeing, several new Rock Climbing courses and a Wilderness Recovery Retreat for Cancer Survivors.
Office moves to larger space on East Aurora, amenities include space for our supply of outdoor gear and a bathroom inside the building.

2004
TWWI purchases a van.
First annual Moving Mountains fundraiser welcomes guest speaker Pam Houston.
Girls' Wilderness Program launches Wild Voices and a Girls' Rock Camp at Vedauwoo.
New women's courses include Intro to Backpacking, Wilderness Yoga and Writing in Nature.

2005
First mountain biking course.
First writing retreat with Pam Houston.
TWWI office moves to current space at 5723 Arapahoe Avenue.

2006
Capacity building grants enables expansion of office staff to 4.5 full-time employees.
Marie C. Wilson, founder of The White House Project and Take our Daughters to Work Day, speaks at Moving Mountains.

2007
Girls' Wilderness Program expands with Wild Moves, Wild Art and additional sections of Adventure Camp.
Laura Tyson celebrates a decade of service to girls and women, and hands the ED reigns to Beth Davis,.
Laura Tyson wins Women's Foundation of Colorado Be Bold Award honoring 20 local women who are positively impacting the economic self-sufficiency of women and girls in Colorado.

2008
Girls' on the Rise launches to serve middle-school girls with an seven-month after-school community-based program.
Custom Courses grow to include adventures for The Wilderness Society, Naropa University, OASOS, Sigman Financial Fitness and the Shining Mountain Waldorf School.
TWWI is a finalist for the Boulder County Business Report's IQ Awards for Innovation.
Join us in building TWWI through its next decade.
About Laura Tyson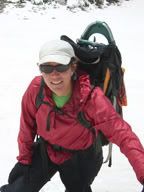 Laura Tyson, Founder, transformed the paradigm of outdoor and experiential education by creating a 'girl-positive' and 'women-centered' program model that celebrates and effectively motivates change in the girls and women who participate. The Institute's programs have proven successful in helping girls and women use their voices, feel powerful about their ability to effect positive change and build critical feelings of confidence, self-worth and self-sufficiency. Through her vision and dedication, Laura effectively broke new ground in the field of outdoor education-a model which until her innovation had traditionally been patterned on emotional and educational learning styles of men and boys. Laura holds a Bachelor's Degree in Biology and Environmental Studies from the University of California at Santa Cruz and a Masters Degree in Contemplative Psychotherapy from Boulder's Naropa University.