Read our latest Cliffnotes
Stay connected with all that's going on at Women's Wilderness. Get the skinny on our latest courses and events plus helpful women-specific tips and trips for getting the most from your outdoor adventures. Read about inspiring things going on in our community, hear from our sponsors and much much more! Click the link on the right to have Cliffnotes delivered right to your emailbox 10 times each year.
Enjoy our most recent Cliffnotes right here!
If you can't open this email ~ read Cliffnotes online
| | |
| --- | --- |
|  Cliffnotes : The Women's Wilderness Institute                 May 2013 | |
Women's Wilderness is happy to celebrate all our Veterans this Memorial Day and everyday!

Thank you for your service! 
| | |
| --- | --- |
| Experience. Empower. Lead. | |
"Thanks to Women's Wilderness, I believe in myself and my abilities -
 I can do ANYTHING!"  
- Clarissa, Leadership Graduate 2012
What does it mean to be a leader? Our aim with our Girls' Leadership Course (July 22-August 4) is to create a space in which to explore this question, find what it means on an individual level, and move towards achieving individual and group leadership goals; we're going to really "walk our talk."  

A 2008 press release from the Girl Scouts of America suggested that "while girls find the command-and-control style of leadership unappealing, a majority of them would aspire to a different kind of leadership focused on personal principles, ethical behavior and the ability to affect social change."

Leadership involves
being honest with yourself,
a commitment to be understanding of others, and willing to practice integrity. As a leader, you will speak truthfully about your perceptions and beliefs, while also listening openly to others.
This year, we've extended our Leadership Course to
14-days
to give girls the opportunity to explore their own leadership style and goals, work as a team, and create a small community in which to live amongst during the course. Over 14-days, we'll explore what it means to be a leader in YOUR way resulting in a style of leadership that is personal, ethical, and will affect the change that you want to be a part of. All this amongst the beautiful backdrop of the Mt. Zirkel Wilderness near Steamboat, Colorado.
Join us on the Leadership Course this summer and discover what leadership means for you!
Questions? Give us a call 303.938.9191 or
email
us! 
The wilderness is an exceptional and unparalleled place to focus upon growth, fun, relationships, healing , leadership, and technical skills. Not every outdoor adventure fits into a specific mold and we're thrilled about the
custom programs
we've been able to help co-create for several groups this year (so far!): a 5-day backpacking course in Vedauwoo, WY for
Mountain Phoenix Community School
, a 1-day rock climbing day for the
American Indian College Fund
, a 5-day professional development training for
Tragedy Assistance Program for Survivors (TAPS)
, and there's more to come!
Interested in customizing an adventure, leadership training, or maybe even birthday party for you, your friends, or your company? Women's Wilderness wants to take you outdoors - or help create something indoors! Our custom programs can deliver all the magic inside and out.
Learn more
about how Women's Wilderness can help create a
custom experience with you
!
Women's Wilderness is excited to be a part of the efforts in diversifying the outdoor industry and making wilderness experiences accessible to diverse populations. To inspire youth of color-and particularly African American youth-to get outside, get active, and become stewards of our wilderness, the National Outdoor Leadership School (NOLS) will run an expedition with African American participants who will attempt to summit Denali, the highest peak in North America, in June, 2013 - the 100th anniversary of the first ascent of the peak! Join us in following "Expedition Denali" as they make their summit attempt next month!   
10,000 Steps
The longest and most strenuous day on Denali will be the summit day, a five-mile trip up and back to High Camp. Five miles is roughly equal to 10,000 steps. Women's Wilderness encourages you to get outdoors and hike your own "10,000 Steps to Denali" in outdoor spaces near you to commemorate this historic event. If not 10,000 steps, we encourage you to take steps towards getting outside, engaging in the discussion of diversity within the outdoor industry, and be a part of a greater conversation.  
Learn more about, and follow the "Expedition Denali" team, by visiting their website. We look forward to hearing about YOUR 10,000 Steps!
| | |
| --- | --- |
| Join the Women's Wilderness Team :: Media and Photography Intern Position | |
Join the Women's Wilderness team for an amazing opportunity to gain - and show off! - your skills in media and photography!  
We're looking for a Media and Photography Intern who will take on several important projects this summer including creating our end of the summer slideshow for our participants as well as marketing materials and photo management. We work hard, and play hard, and it's important to us that all of our staff (including interns) get a chance to have meaningful back country adventures as well as office based ones! You'll get the opportunity to get out in the field to capture the beauty, the courage, and the adventure that happens on each and every course.
| | |
| --- | --- |
| Community Events & Volunteer Opportunities | |
It's going to be a beautiful weekend to be outside in Colorado!
Women's Wilderness is excited to celebrate our vibrant community in both Boulder and Longmont - swing by the Boulder AND Longmont Farmer's Markets this Saturday, May 18 and say hello!
Triple ByPass 
The Triple Bypass Bicycle Ride is in its 25th year and we're psyched to support the riders with smiles, sandwiches, and much deserved high fives! Year after year this is one of our favorite volunteer events and a full day of fun. AND it's a fundraising event for Women's Wilderness, too! So, your being there directly helps raise scholarship dollars for girls to attend our summer programs - high fives all around! Interested in volunteering? Check out the details below:   
When: Saturday, July 13 with shifts times starting at 8:30 and running through 5pm  
Volunteers Needed: 15-20 
Email Lori if interested in helping out with this super fun day or give a call to the office 303.938.9191  
JOIN OUR LIST:
JOIN OUR MAILING LIST
The Women's Wilderness Institute
1
501 Lee Hill Drive Unit 16


Boulder, Colorado 80304




303.938.9191


womenswilderness.org

 





The Women's Wilderness Institute is a non-profit

organization with the mission of strengthening the courage, confidence, and leadership qualities of girls and women, through the challenge and support of group wilderness and community-based experiences.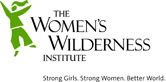 The Women's Wilderness Institute

|

1501 Lee Hill Drive Unit 16

|

Boulder

|

CO

|

80304