Read our latest Cliffnotes
Stay connected with all that's going on at Women's Wilderness. Get the skinny on our latest courses and events plus helpful women-specific tips and trips for getting the most from your outdoor adventures. Read about inspiring things going on in our community, hear from our sponsors and much much more! Click the link on the right to have Cliffnotes delivered right to your emailbox 10 times each year.
Enjoy our most recent Cliffnotes right here!
| | |
| --- | --- |
|  Cliffnotes : The Women's Wilderness Institute        November  2013 |   |
After a few awesome years in our space in north Boulder, we've packed our backpacks (quite litterally) and headed south. Come
visit us
at our new space in south Boulder!
Be sure to update your address books and GPS's to our new location:
4730 Table Mesa Drive Suite K-100
Boulder, CO 80305
Our new office is conveniently located just west of HWY 36 and Foothills Parkway with great views of the flatiron open space - how inspiring!
Stop by for a visit and a tour of our new space! Our phone number is the same - 303.938.9191. 
In the month of gratitude and giving thanks, we are thankful for winding trails, scenic views atop mountain ridges, the varied textures of rock beneath our fingers and feet, laughter around the camp stove, sharing, learning and doing! What are you thankful for?


During the holiday season, we're excited to be a part of the
campaign that creates a national day of giving:
#GivingTuesday! In celebration of the great work of non-profits like ours, it's a way to encourage charitable activities that support nonprofits.
| | |
| --- | --- |
| In the Spirit of Giving this Season      |   |
Non-profit organizations usually focus on requesting gifts and support throughout the holiday season. However we're turning the tables by giving back to fellow non-profit, Bridge House, this holiday season.
With our recent office move to a new, smaller location, we found ourselves with more backpacks and sleeping bags than we needed. That's where Isabel McDevitt, the current executive director of Bridge House and one of our former board members, enters this story of holiday giving. Isabel has remained connected with our organization, and Executive Director Shari Leach; each respect one others commitment to serving their shared community. We've loaded 15 large backpacking packs each with a sleeping bag, water bottle and warm hat to help keep members of its greater community warm this winter. "As temperatures start to drop into the teens and the snow starts to fly, we have homeless community members who struggle to stay warm at night. Women's Wilderness' donation will help ensure that more people stay warm this winter" said McDevitt.  
Additionally we've donated 10 tents to the Lyons Volunteer Fire Department to use fighting wildfires next summer.
Let's spread the love, and warmth, this holiday season!
| | |
| --- | --- |
|   | Volunteer Opportunities & Events |
T'is the season for giving and receiving - and enjoying the holidays!Check out ways to get involved with us, and our friends in the community, this late-fall & early-winter!
Gear & Cheer Committee

It's that time of year again when we start planning our biggest FUNdraiser of the year:
Gear & Cheer
! If you're interested in getting involved behind the scenes for this event, join our committee. You can be a part of the planning from start to finish - and get a sneak peek at the sweet auction items FIRST! If you're interested in learning more about this event, commitments for being on the committee, and about our team, send
Lori
an
email
.
The last market of the season is this
Saturday, November 23 and the folks at BCFM are going big! They'll have a (live!) turkey, goats, pumpkin decorating and a "Phattest Bounty" competition.
Want to be a part of the fun? Head on down to downtown Boulder this Saturday and get your winter bounty!


Lights of December Parade - Downtown Boulder

Women's Wilderness' Bouldering Bus will get dressed up in lights and join the other floats cruising in downtown Boulder for the
Lights of December Parade
on December 7. If you haven't had a chance to check out our bus - or the parade - it's sure to be a fun way to spend your Saturday night.
When:
December 7, parade begins at 6pm
If you're interested in joining us ON the bus as it drives through town, send
Lori
an email -
space is limited!
Help make gift giving and receiving a little more colorful and full of love this holiday season! Feel free to add your creative style with some of your own wrapping materials like maps, butcher paper, twine, etc to add some flair. In exchange for wrapping, any donations received at this event will support our Girls' Wilderness Program's scholarships.
When: December 14, 4-7pm
Volunteers Needed: 4

Interested in any of the above volunteer opportunities? Give Lori a call 303-938-9191 or send her an email.  
JOIN OUR LIST:
The Women's Wilderness Institute
4730 Table Mesa Drive Suite K100
Boulder, Colorado 80305
303.938.9191
womenswilderness.org
The Women's Wilderness Institute is a non-profit
organization with the mission of strengthening the courage, confidence, and leadership qualities of girls and women, through the challenge and support of group wilderness and community-based experiences.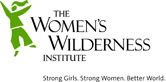 The Women's Wilderness Institute

|

1501 Lee Hill Drive Unit 16

|

Boulder

|

CO

|

80304